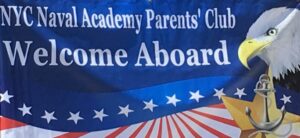 These documents supplement the Welcome Packet given out at the NYC NAPC Welcome Aboard.   Documents related to the Class of 2025 will be load as they become available.     Come back often since additional information will be constantly added
Information about the Naval Academy can be found on The Blue and Gold Book webpage. Click here to download a copy.
You should have received a a brochure from The Academy containing  I-Day Information for Parents.
Map for getting around the Yard
After the academic year starts, the class profile for your Plebe will be finalized.   In the meantime, this is the Class of 2024 Profile.
Navy Guide to Annapolis  This booklet provides a lot of information about USNA and Annapolis.
I-Day Musts    I-Day tips for your Plebe:
USNA-Organization-Plebe-Summer    Your Plebe will be assigned to a Platoon and Company for Plebe Summer.    Two platoons will be combined to form a Company.    Knowing the Company that your plebe is in will help you find pictures that are taken by the Alumni Association Photo Program,  ie.  Baker Company Sailing,   Lima Company Damage Control, etc.
Plebe Parent Weekend     Towards the end of the summer, you will be invited to Plebe Parent Weekend.    You will marvel at the changes from when you dropped your Mid off on I-Day  to PPW.
The Class of 2025, they will be mentored, supported by the members of the USNA class of 50 years ago, the Class of 1975.    Members of the Class of 1975 will be present at key events during your Plebe's time at the Academy.   These events include but not limited to:
I-Day
Herndon Climb
Sea Trials
the presentation of Honor Coins to your Plebe.
Bonds of Gold Ceremony.   Donated rings from the Class of 1975 rings will be melted down and used in the forging of the of the Class of 2025 class rings, thereby creating a lifelong bond between the two USNA classes..
Commissioning
Career Opportunities  This provides information about the various warfare communities and breakdown of assignments for our Mids.